The Cyclades are a peculiar group of islands, the center of the world of ancient times. They are a group of small and large islands that encircle the sacred island of Delos, in which Apollo was born. If you look closely, you will observe that all the islands hover around this sacred island.
Even though all the Cycladic islands were the result of volcanic eruptions, the combination of water and fire gave in each one a distinct character. The islands are dry, rocky, lacking in cultivating areas and water, except perhaps from Andros, which is famous for it's water. Despite all this dryness, the earth sprouted fresh vine and caper shoots. The animals graze the scant grass, salted by fresh sea air, helping them produce rich and tasty milk that is used to make a great variety of cheeses.
So, what can we eat at the Cyclades? Moussaka and pastitsio would not be a reasonable choice, since they do not represent the islands' typical dishes. In Santorini, we must taste a dry fava (mashed chickpeas) with roasted onions, a tomato salad made with small waterless cherry tomatoes along with caper leaves, seasoned with vinegar, as well as aromatic tomato balls. Tomatoes are never watered in Santorini. The only water they get is from the moisture in the air and that is why they are twice as tasty as other tomatoes.
White eggplants, another typical product of the island, are very sweet and can be cooked with baby lamb in the casserole and lot's of cherry tomatoes. These local dishes owe their rare flavors mainly to the fresh ingredients that are used to prepare them, rather to skilled chefs. The ideal way to finish your meal would be with two melitinia. Melitinia are small cream cheese(myzethra) pies, made with great effort that reveals the dexterity of the housewife, as they are embroidered with at least 50 folding all around and are flavored with Chios mastic.
In Tinos, you should taste louza, a kind of ham, flavored with spices, then, left to dry in the air and cut in thin slices. It has a distinct deep ruby color. This is quite a rare hors d'oeuvre that you must definitely try in one of the island's local tavernas.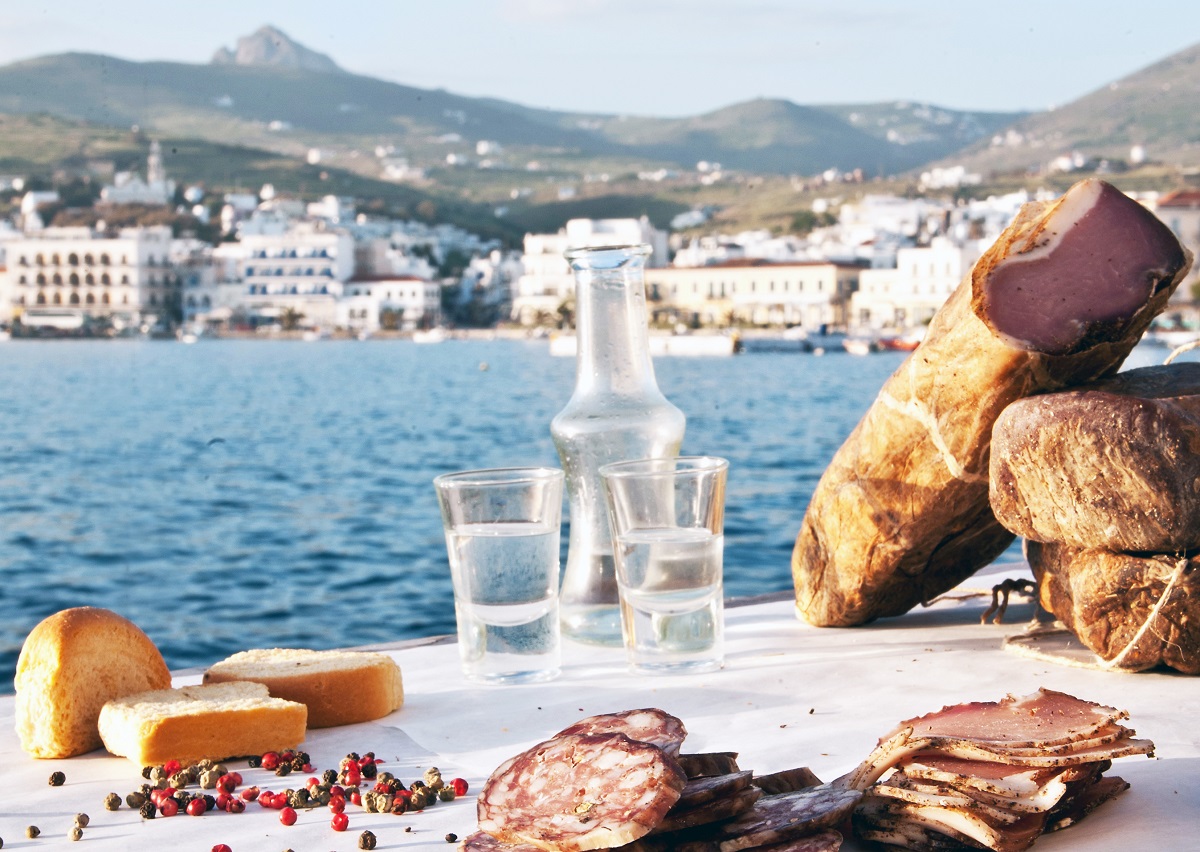 If we visit the island of Paros, we can enjoy traditional island cooking , based mainly on fish and vegetables, grown in the small gardens of the island. As for example, saddled bream baked in the oven with potatoes and zucchinis, and of course, delicious chickpeas from Paros cooked with onions, tomatoes and plenty of olive oil. The last one will offer you a whole new perspective on chickpeas.
Up to now, I have not mentioned two particular products: wine and cheese. It is fact that the islands of the Aegean Sea have a wide variety of cheeses with distinctive tastes. The Cyclades have always benefited from having sheep, goats, and cows. Thank to this each island offers a huge variety of excellent cheeses – one better than the other – with special flavors that mature over time.
In Mykonos you will find kopanisti piperati, a spicy creamy cheese made with a completely natural way, in Naxos, Graviera a cheese with sweet buttery flavor produced exclusively with cows milk and in Santorini, Chloro, a fresh Greek cheese made from goat's milk which can be eaten both fresh and soft or mature and hardened. This is a great cheese, although it is produced only in small quantities. It has an intense sharpness and once matured, it hardens and can be even grated for spaghetti, providing an extremely distinct taste.
Santorini tops the list for wine production with three dominant varieties – assyrtiko, athiri and aidani. These varieties produce white wines with strong acidity, but when their grapes are dried in the sun, they give a renowned sweet wine called Vinsanto. Paros is the only island in the Cyclades, Santorini aside, which can pride itself on Protected Designation of Origin (PDO) wine. So, one can officially speak of "Paros" wine, both white and red. White wine is produced from the Monemvasia grape variety and red from Monemvasia and Mandilaria. Back in Tinos, Alexandros Avantangelos cultivates his vineyards, among granite boulders as smooth as giant cannonballs. At an altitude of some 450 meters around Falatados are 25 acres planted with Assyrtiko, Mavrotragano, Malagousia and Avgoustiatis.
One thing you should bear in mind when One thing you should bear in mind when enjoying the wide variety of dishes on each of these islands, is to always accompany them with wine, produced in the same island. In this way you will have, an even more pleasurable experience. As a destination, the Cyclades do not just offer beautiful beaches and great nightlife. They have a rich culture, great hiking paths and array of tasty delights that if discovered, will lead you to new pathways.