Today I will be telling you about the best street food of Athens! When one travels to a new city, they never want to spend too much time sitting and having lunch! There is so much to see, and time is precious! So, the best thing to do is to grab a quick lunch and continue visiting all the amazing landmarks the city has to offer!
In a bygone time, street food in Athens was all about Gyros and Souvlaki. However, in recent years street food has metamorphosed into something else entirely: affordable gourmet food. With this explosion in popularity has come a wave of new, delicious choices. Here are our favorite picks of amazing street food from around the Greek food capital…
Dirty Mani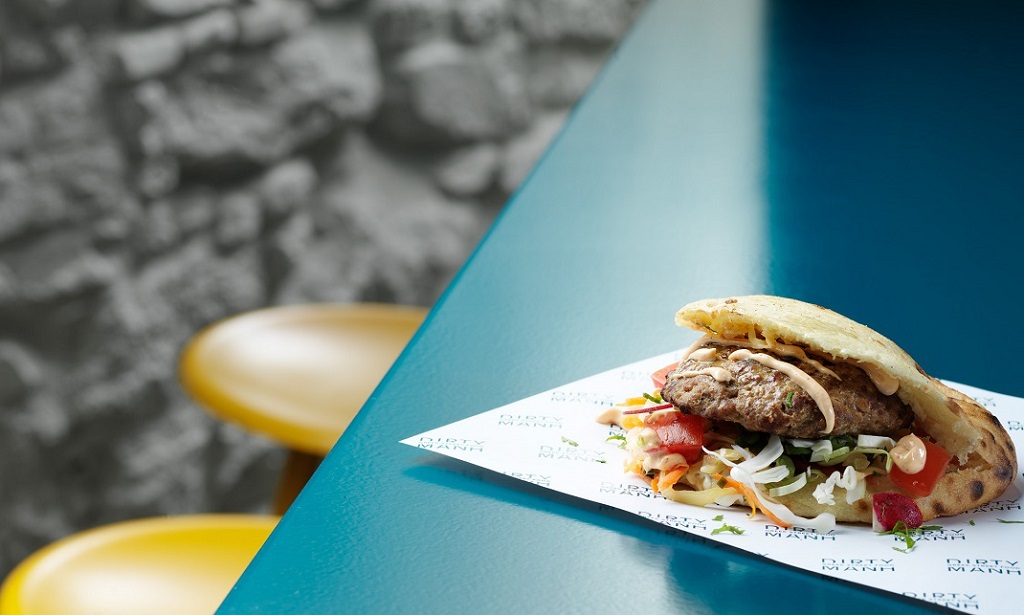 It is not difficult to spot dirty Mani as it looks like a food truck and it has a yellow 72' Mini Cooper parked in the front. It offers a really interesting twist to the usual souvlaki pita, who gets reinvented, with premium quality and ingredients from Mani Peninsula. The pork belly sous vide pita is a must, filled with ginger, cilantro, lettuce, fruits chutney, chilly oil and smoked eggplant.
Getting There: Dimitrakopoulou 5
Feyrouz
The family that runs this tiny place take pride in what they serve. There's a great variety of interesting oriental tastes (wrapped portions, pies, salads, soups, etc), good quality of ingredients, very decent quantity and for usually less than 4€. My favorite is the kushbasi. This is French pork with spices, smoked eggplant, mozzarella and rosemary wrapped and baked in a dough that is out of this world
Getting There: Karori 23 & Aiolou
Babaganush
A recent food trend to hit Greece, falafels the chickpea dish most commonly consumed in a wrap, have stolen the heart of many vegetarian and non-vegetarians and they are a great alternative to the ubiquitous gyros. Babaganush, a cute, cozy and a stylish little space next to Varnava square in Pagrati, serves one of the best in town. Also, their house made lemonade with mint and ginger is not to be missed!
Getting There: Empedokleous 25
Tsiknaboom
The taste of the food here is great, because it is so meticulously prepared by Giorgos the owner. You may wait a bit longer to receive your order but it's worth it! Just have one pita with delicious rotisserie pork/lamb/rooster (!!) and only a few but well composed ingredients with a cold local beer or tsikoudiá and you'll be hooked for life.
Getting There: Pallados 2-4
Naanwich
For curries and generally spicy, tasty Indian fare, Naanwich the newest sibling of Mirch is the top choice. Definitely try the Naan masala souvlaki, a big nan bread filled with lettuce, cilantro, raita and chicken tikka masala. Also have in mind, that also they have a floor upstairs and a courtyard with a view in Acropolis and a good selection of beers.
Getting There: Ermou 115
Hoocut
In Athens, and for that matter, throughout Greece souvlaki is a ubiquitous staple. It is bigger than the Beatles and has been for years. Although souvlaki is celebration of fresh vegetables, meats and will satisfy any appetite, it tends to be a bit "same ol, same ol". Hoocut turns the page and starts a new chapter in the world of souvlaki! Quality is the name of the game here. Fresh ingredients, high quality meat and a hell of a good pitta.
Getting There: Square of Agia Eirini 9
Tuk Tuk Thai
The whole vibe of Tuk Tuk, with the extreme Asian decoration and the cooks preparing everything in front of you, is like a wormhole that leads to Asia, while being in the heart of Athens. Everything here is fresh and simply delicious. Don't miss out on their incredible Toms (soups), stir fry's, their legendary phat Thai, and my personal favorite, gai yang chicken!
Getting There: Veikou 40
Kostas
Famous for its juicy, handmade souvlaki this tiny place was established in 1950 from the grandparent of the current owner. Here they still use the authentic and Doric recipe with tomato, yogurt, onion and parsley with no tzatziki or fries. There moto is "no stress" so be prepared to wait…Also have in mind that usually by 3 pm they are already sold out!
Getting There: Pentelis 5
Mikra Asia
This humble place serves, one of the best Kebaps in town. It is owned by a family of Kurds, who fled Turkey years ago for political reasons and it is clear, that extra care has been put into making everything you order. I especially like their signature Beyti kebab and I also love their Giaourtlou lamp kebap made with tomato sauce, yogurt sauce, and pita bread. Last but not least, when you arrive tell them that you want Künefe for dessert, as it takes time to be prepared. It is a crispy cheese-filled dessert with shredded Kadayif noodles made over an open charcoal fire and coated with sugar syrup.
Getting There: Moshonision 20
Written by Dimitris Papageorgiou